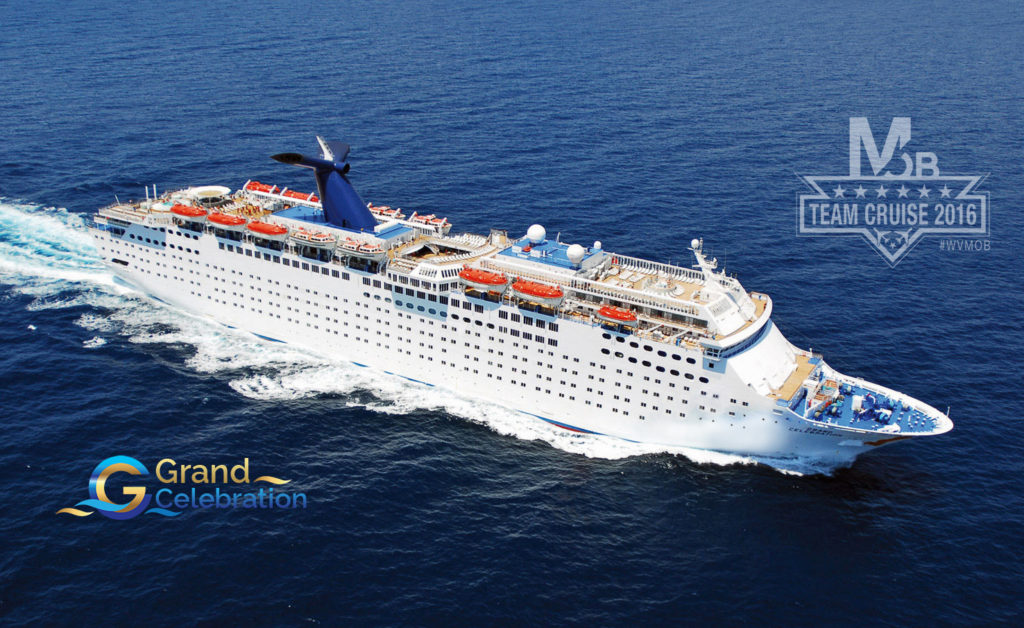 July 13th-15th, 2016
About Your Trips
Soak up sun on the beaches of the Bahamas on this DreamTrips cruise. Depart the Port of Palm Beach on the delightful Bahamas Paradise Cruise Line's MV Grand Celebration. This ideal cruise ship is filled with fun for everyone in the family and includes a variety of children's activities and plenty of things to do for adults. Try your luck at the main casino, unwind at the spa or spend your time sunning on the cruise deck. Delicious food is served at four separate restaurants and several lounges and bars serve up ice-cold drinks for you to sip as you listen to live music.
The destination beachfront resort in the Bahamas offers plenty of entertainment, as well. Snorkel above an astoundingly peaceful coral reef filled with undersea wildlife, take a Jeep adventure across the island or even swim with beautiful dolphins. Create unforgettable memories in the Bahamas before returning to the Port of Palm Beach.
What we love
Pool deck with 5 pools and assorted Jacuzzis.
Live music at bars and lounges.
Casino with a variety of card games and slot machines.
Live shows at a state-of-the-art performance venue.
Beachfront resort with a variety of activities.
Check out this DreamTrip on Facebook.
What's Included
3 days and 2 nights on a Bahamas cruise aboard the MV Grand Celebration.
Complimentary breakfast, lunch, dinner and snacks are provided on board. Experience fine dining in the 2 main dining rooms, and casual dining at a variety of times and locations throughout the ship. Some dining options, including specialty restaurants, are offered at an additional charge.
3 pools, including an adults-only retreat, and 3 whirlpools/hot tubs.
Access to spa and fitness center, with treatments and classes at an additional cost.
Family-friendly programming and activities, including shows, games, contests and enrichment classes.
Complimentary entertainment in the 20 bars, clubs and lounges on board.
Access to casino.
Onboard Wi-Fi (for an additional charge) and flat-screen TVs in each stateroom.
Duty-free shopping.
An In-destination Support team member will be provided on this trip. Their goal is to ensure you have a great DreamTrips™ experience from landing to liftoff. They host a welcome reception on arrival day, attend scheduled activities throughout the trip, notify the group of itinerary updates and more.
---
Platinum Inclusions
After boarding the ship, Platinum Members will be treated to onboard credit* for use toward amenities on the MV Grand Celebration: US$50 per Inside Cabin and US$75 per Ocean View Cabin. If you have any questions regarding your onboard credit, please see the ship's Guest Services.
*You get one (1) onboard credit per Platinum Member cabin, and the credit is available for use on this DreamTrip only. Onboard credit is not transferable, has no commercial value, is not subject to refund or credit after the stay and cannot be redeemed for cash.
---
Contact me so you don't miss out on the next one!